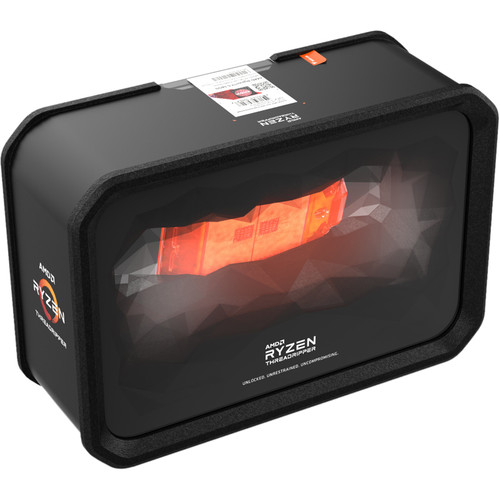 The Ryzen Threadripper 2950X 3.5 GHz 16-Core sTR4 Processor from AMD is a powerful 16-core processor with 32 threads, designed for socket Threadripper 4 motherboards. Built with "Zen+" core technology, an advanced 12 nm process, the second-generation Ryzen processor offers increased performance compared to its predecessor. It has a base clock speed of 3.5 GHz and can reach a max boost clock speed of 4.4 GHz. Moreover, it features 40MB of combined L3 and L2 cache, 64 PCIe Gen 3 lanes, and support for quad-channel DDR4 RAM. Please note that this processor has a 180W TDP (Thermal Design Power), and premium cooling solutions are encouraged for the best performance.

"Zen" Core Architecture

Setting the Bar for High Performance and Efficiency
Second-generation Ryzen processors offer increased performance compared to their predecessor, thanks to "Zen+" architecture, featuring an advanced 12nm process node.

Compute Efficiency by Design
The "Zen" core is a "clean sheet" x86 processor design that combines high-throughput and low-power methodologies to create a balanced and versatile architecture ideal for desktops, laptops, data centers, and supercomputers. Second-generation Ryzen desktop processors have been updated to "Zen+", an advanced 12nm process node offering increased instructions-per-clock performance.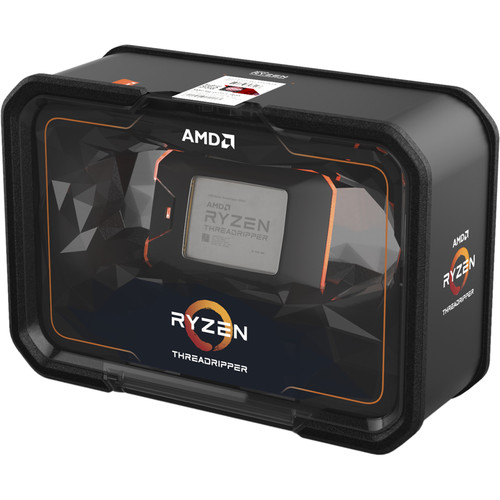 Performance and Efficiency for Next-Gen Applications
"Zen" cores are designed with a high-performance execution engine, large caches, and powerful multi-threading capabilities for cloud computing, enterprise productivity, immersive visual experiences, gaming, and data security.

AMD SenseMI Technology
AMD's SenseMI technology is a set of learning and adapting features that help the AMD Ryzen processor customize its performance to you and your applications, thanks to machine intelligence (MI).

Extended Frequency Range 2 (XFR 2)
AMD Ryzen processors can take advantage of the lower temperatures offered by premium cooling to enable higher multi-core performance. Benefits include CPU speeds above and beyond ordinary Precision Boost limits, scaling clock speed with cooling performance, fully automated; no user input required.

Precision Boost 2
The AMD Ryzen processor monitors its own energy consumption and temperature. When the processor knows it's running cool and quiet, it can raise clock speeds in precise 25 MHz steps for any application without pausing work.
Neural Net Prediction
AMD Ryzen processors are built with artificial intelligence to understand your applications and anticipate the next steps of your workflow in real-time. These "powers of prediction" can boost performance by using more efficient paths inside the processor.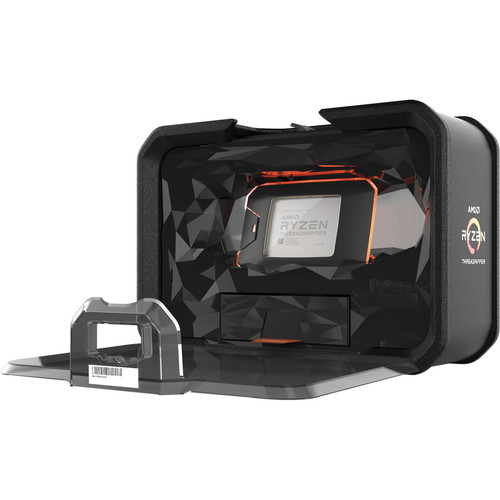 Pure Power
Smart sensors monitor CPU temperature, resource usage, and power draw to offer cool and quiet operation to your AMD Ryzen processor. It also includes intelligent power optimization circuits and uses less power thanks to the advanced 14nm FinFET manufacturing technology.

Smart Prefetch
AMD's Ryzen processor features Smart Prefetch, which utilizes sophisticated learning algorithms for fast and responsive computing.

AMD Ryzen Master Utility

Personalized Performance
AMD Ryzen Master provides you with up to four custom, user-defined profiles to store CPU, GPU, and DDR4 memory configurations. You can adjust the active cores, integrated graphics frequency, and memory timings as well as optimize general performance or fine-tune for your favorite applications.

System Monitoring
AMD Ryzen Master offers you real-time monitoring and a histogram of per-core clock rates and temperatures, including average and peak readings.
Document version V.01  
Last update date: June 2nd ,2021 
OVERVIEW 
This policy identifies the outlines of the shipping rules or returning rules for goods via mail. These policies often cover details like costs, delivery times and dates, and what to do if the product is damaged on arrival. 
When do you ship? 
In order to clarify the expected delivery date for Newtech shipments, we have added the expected delivery date below each product.  
To make it easier for Newtech customers to know the date of the delivery, Not only that but Newtech customer service team contacts customers within 24 working hours from the date of the purchase to review the order and confirm the delivery date. 
Where do you ship to? 
Newtech ships products from 6 warehouses in separate areas, this is to facilitate the shipping and reduce the delivery time. Newtech delivers and covers all Saudi Arabia cities using professional carriers and logistics systems to track and trace the shipments. 
How do you ship? 
Most of our orders ship via a selected professional courier (DHL, ARAMEX, SMSA, ESNAD).  However, the shipping company is chosen through the Newtech operation team based on the product type and the product warehouse location also Newtech customer destination address, to allow us to select the best shipping solution and the fastest way. 
You can add your note in the comments box if you have a special instruction for our carries or you can inform Newtech customer service when they call to verify your address. 
Rates to ship? 
Newtech provides Free Shipping Service on all its products, except for special products that require special shipping costs. 
How to track an order that has been shipped? 
Newtech has designed a distinct page for its customers to be able to easily track their shipments and know the status of their orders.  
You can track the order by clicking on the Order Tracking page on the home page, you just need a simple verified information  
1. Your order ID and your email address  
You will receive the order ID once you place your order with the Newtech store, we will send it to you via email and also SMS this number starts with SA, you will also need your email registered with us during placing your order. 
Once you fill out the needed information, click on track to get your order and the shipment status.     
2. Tracking number 
This is the second option you can use to track your order, if you don't have your order ID or your email but you have the carrier tracking number, you will also be able to track your order to know the current status, add the tracking number only and click on track to get your order and the shipment status.     
Are the items in stock? 
All items are normally held in stock. However, we may sometimes run out due to sudden demand, in which case we will notify you within 24 hours from the order date, Newtech customer service will call to notify you about the delivery time and inform you of the date we expect to receive more stock. Or you can refund your payment within 2 hours if you are not satisfied with the new estimated delivery time. 
VAT, Customs and Duties for all orders shipping  
Newtech store confirms that there is no hidden cost, all shipping cost, VAT included in your paid price and we will not ask you for any additional payment when we deliver your product.  
Newtech takes great care that our customers should be aware of the real cost that will be paid during the purchase. 
You will find a clear notification, a message with a different color to show all the costs you should pay before your purchase.
Shipping Damages 
Newtech is always keen on packing methods and materials also we are careful to select professional carriers to avoid any possible damages to the shipment that may happen. However, there are some accidents that happen occasionally damaging the shipment or cause some scratches for the package packing. Rest assure we are responsible that the shipment arrives safely to you and any damages will happen we are responsible to replace the item for you. 
If you faced any damages, you should inform our CS or support team immediately or within a maximum of 24 hours from the delivery time. Otherwise, we will consider that you received your item with no issues. 
Return Shipment  
This paragraph linked with another policy (Return and refund policy), please check it to know when you can return or exchange your product. 
There are many reasons to return your shipment or to replace it, based on the return and refund policy, If the return is not related to a technical reason or a problem that has a relation to the product or its specifications, and that only the customer has changed his mind, then the cost of the return will be on the customer. 
You will need to communicate to the CS team or support team and they will be responsible to generate the return AWB and handle the return for you. 
Contacting Us 
If you have any questions about this shipping policy, the practices of this website, or your dealings with this website, please contact us using the following details: 
Full name: Technology Flame Establishment 
Email address: support@newtechstore.com 
Postal address: Muheet Street, Al Nadheem, Riyadh City, Saudi Arabia 
Telephone number:  920011980 
AMD Ryzen Threadripper 2950X 3.5 GHz 16-Core sTR4 Processor